Most people in Japan, Japanese and foreigners alike, know of Uniqlo (ユニクロ) - the giant clothing chain known for its typically inexpensive clothing and goods. And the clothes are often very basic and no-nonsense, which for me, is a huge plus. Shopping in the feminine sections in Japan can sometimes get overwhelming (for me) with lots of frill and fluff, so I'm happy that I have Uniqlo. I'm just a simple style kind of person. There's also Muji, and Gap, and a few other places, but let's save those for another post. Granted, some western guys may find the colors and selection slightly on the feminine side, but this is Japan after all. It's normal here. And it's not like there aren't dark colors that are typical of men's clothing.
So why Uniqlo? Why, other than the most obvious reasons? You'll find the obvious below (which may or may not be as obvious to those that are new), but hopefully you'll also find a few new things (at least for those of you who aren't already well-versed in Uniqlo shopping).
Cheap Clothes
Hello, 900 yen or less T-shirts. Hello, 1,990 yen sweatshirts. Jeans, pants, socks, underwear, jackets - the list goes on. Even the down jackets they seem to promote rather heavily right now are around 6,000-7,000 yen, which is insanely cheap for a down jacket. And the quality? My Uniqlo clothes seem to hold up rather well - suppose I can update again in five years.
(Almost) Good ethics

Not only is Uniqlo cheap, but they also do all right in the ethics department. They offer a recycling program for their products, offer employment to folks with disabilities, and are getting involved with social issues. The lovely Nadia of Ethical Nippon
wrote a great post
about this recently, so I would encourage you to take a look.
A range of sizes

Typical sizes are small (S) to extra large (XL). If you shop online, you can find some items up to XXL for both men and women, or down to extra small (XS). If you click on 特別サイズ商品 (とくべつサイズしょうひん, tokubetsu saizu shouhin, special size items) on the left side, all the items offered in larger sizes will show up in the results.
*You can check out the size charts (サイズの選び方) listed in the item description on the right side of the item page to compare the numbers to your numbers. I find the clothes to generally fit, though the sleeves and pant legs are always too short. I like longer sleeves and pant legs, yes, but these are just a tad bit shorter than items in the US. I usually get large pants for length, medium fitted shirts, and large jackets to fit over other items with ease (in case you're wondering, I usually wear small-medium sizes in the US).
*Also, my husband typically wears large sizes here (he wore large in the US too), and his long shirt sleeves are also short on him.
Sales
Yes, I realize this is an obvious one, but when Uniqlo has a sale, the sale items are typically marked down quite a bit. So as much as you want to buy that fabulous new item right away - don't. It will go on sale soon enough.
Note that not all items will be "on sale" during a sale, but you can check online to confirm. So say you are just dying to get one of those micro-fleece jackets but they are normally 1,990 yen. I realize that isn't a lot, but when you're strapped for cash or just trying to cut corners, it might be more than you are willing to shell out. And why would you when on sale the price goes down to 1,290 yen? You could even get two for just over the price of one.
How do you know there's a sale? Check online at Uniqlo's website, or sign up for their email newsletter. I've noticed though that most big sales happen on weekends, when everyone is out shopping.
Online shopping

It goes without saying that shopping online (anywhere) is easy and doesn't require standing in ridiculously long lines during those sales that entire cities will inevitably flock to. Shipping is cheap, you can choose what day/time you want your item(s) delivered, you can pay cash on delivery and you have access to larger/smaller sizes if necessary. And, it's more likely that they will have the colors you want in stock, or even certain items, versus risking it at the store. If an item disappears at the store you frequent, you may be able to find it online before it vanishes forever. (Well, I'm assuming you really wanted that item...)
If you do choose to shop online, I've translated the 6 menu items in bold black in the left sidebar, for you to quickly navigate. Most clothing items underneath are in katakana, but you can easily use a browser extension or your online/computer's dictionary to translate them if necessary.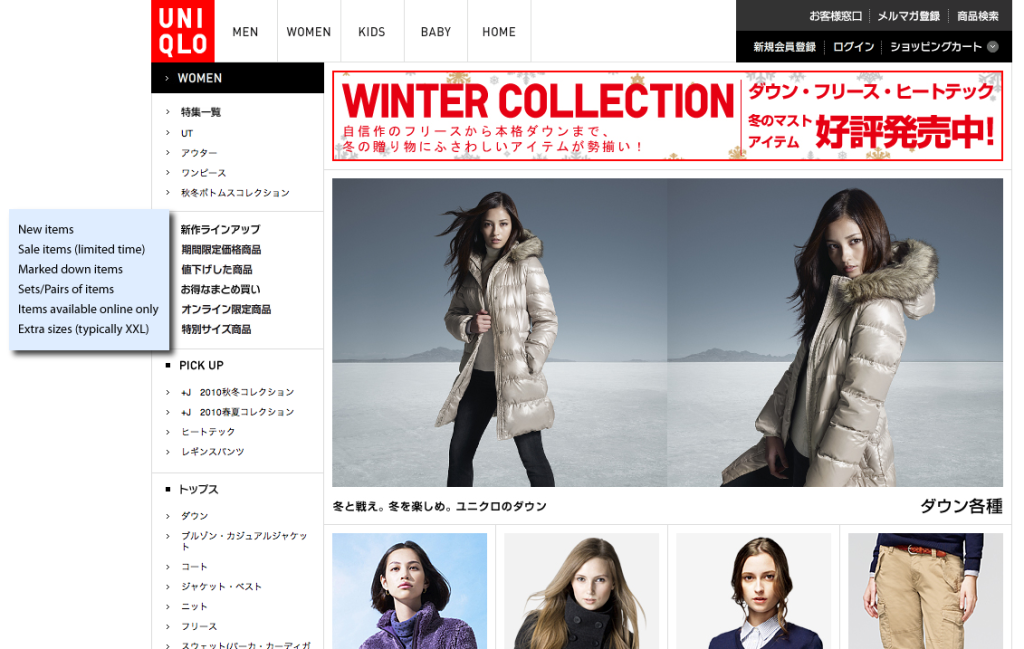 Clearance items

During sales, and even the rest of the time, clothes and accessories will get marked down to clearance, packaged in plastic and packed nicely onto wire shelves that will inevitably be destroyed by hordes of shoppers. I have found some great stuff hidden in these plastic piles (pants or a shirt for 500 yen, for example), so be sure to dig through them. And yes, I've opened the plastic before to check the size on the tag. It's ok, they have a sticky flap you can peel and then put back when you've finished looking at the tag/item. You will also find clearance items online, though they often disappear quickly!
Free hemming
This seventh tip is thanks to odorunara (see comments). So if you need a hem, for whatever reason, they've got you covered!
Do you have any other tips or something to share about Uniqlo?