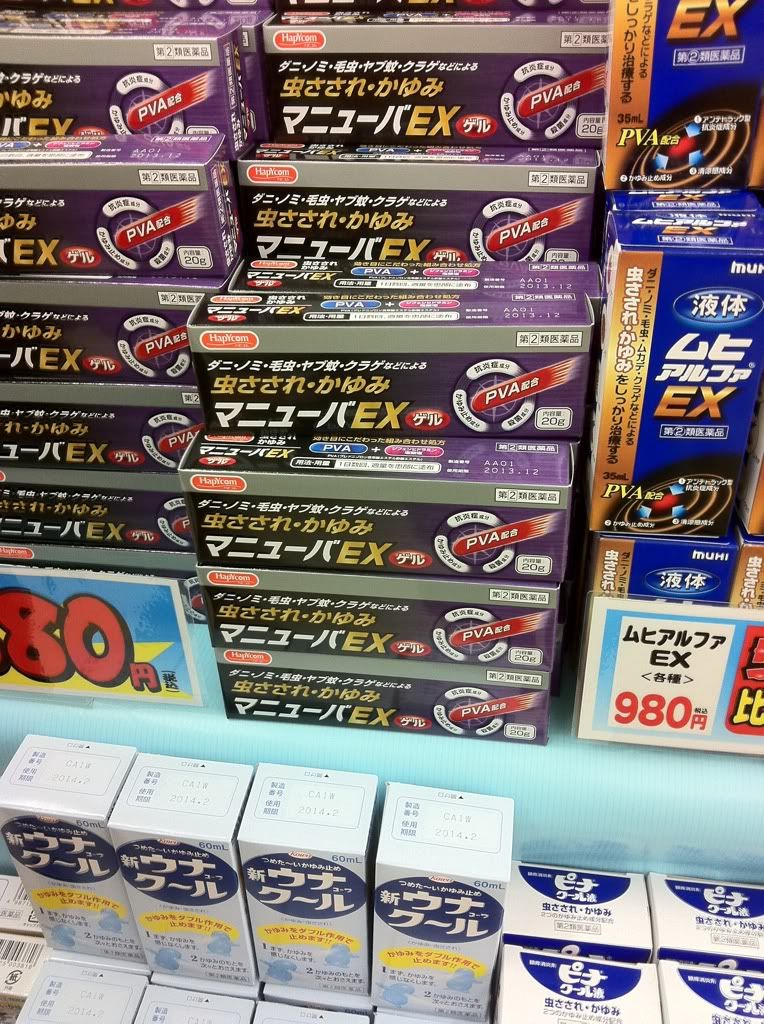 This post is a follow-up to
A Survival Guide to Mosquito Repellent in Japan
, for those who try in vain but perhaps still end up with itchy, annoying bites (I know the feeling...). My first apartment in Japan was constantly bombarded with mosquitoes, as it was next to this swampy water pool. Despite my best efforts, I couldn't keep them all away. (Although I'm convinced I seem especially attractive to them - they go after me far more than my husband!)
I visited a drug store in the first month after my arrival in hopes of discovering some anti-itch cream, the kind you use for mosquito bites, but without any idea of what exactly to look for or what it was called. After browsing the walls and aisles of various items, still unsure of what to get, I asked one of the store employees for help. I looked up mosquito in the Japanese-English dictionary on my phone, showed her the result, pointed to some of the red welts on my hand and arm, and asked if they had anything for that. Fortunately for me at the time, she understood right away and led me to the anti-itch/insect bite medicine, pulling out a box of ムヒ (Muhi), which is a common brand here in Japan.
So, to help you in your search for anti-itch/insect bite medicine, and perhaps save you some trouble of finding what you need at the store, I've included some necessary words to know, and some of the common ingredients you'll typically find in these types of medicine.
Words to Know
When searching for anti-itch, insect bite medicine,
look for these words
:
虫さされ むしさされ mushi sasare insect bite (may also see as 虫刺され)
かゆみ  kayumi itching
Though the brand and item name are typically most prominent on any packaging, you'll likely see 虫さされ and/or かゆみ somewhere on the box/bottle.
Depending on your personal preference, you can find anti-itch, insect bite medication in various forms, including the following:
gel ジェル
lotion ローション
patch パッチ
cream クリーム
liquid type 液体 (えきたい) (usually this rolls or dabs on)
If you want something "extra strength", try looking for the following words, or something with "EX":
しつこい or しぶとい persistent
ひどい strong/severe
Common Ingredients
As an example of some common ingredients you might find in anti-itch, insect bite medicine, I've included the five active ingredients from the ムヒS (Muhi S) type, pictured below:
Muhi brand anti-itch, insect bite medication
ジフェンヒドラミン - diphenhydramine
(antihistamine)
Many (if not most) of the anti-itch/insect bite medication I looked at contain diphenhydramine as one of the main ingredients. It's also worth noting that this antihistamine is the main ingredient western-brand Benadryl uses in its products (both topical and oral).
l-メントール - menthol
(provides cooling sensation)
dl-カンフル - camphor
(provides cooling sensation)
グリチルレチン酸 - glycyrrhetinic acid
(anti-inflammatory)
イソプロピルメチルフェノール - isopropyl
Something that also came up in some of my online searches was
ammonia
(アンモニア水), which is a common ingredient in some insect bite medication in the US. You can find bottled ammonia water quite easily at any local daily goods/drug store.
Other possible ingredients
you might come across (often in combination with some of those above):
Note: this list is not comprehensive as there are many different types of insect bite medication, but I came across these reading various ingredient labels. I am not an expert on any of these ingredients so if you'd like to know more about them, please feel free to do an online search.
クロタミトン - crotamiton
デキサメタゾン酢酸エステル - dexamethasone acetate
A steroid
ジブカイン塩酸塩 - dibucaine hydrochloride
A local anesthetic
プレドニゾロン吉草酸エステル酢酸エステル
-
prednisolone
Also known as PVA, which you may find in extra strength medicine - a corticosteroid drug
リドカイン
-
lidocaine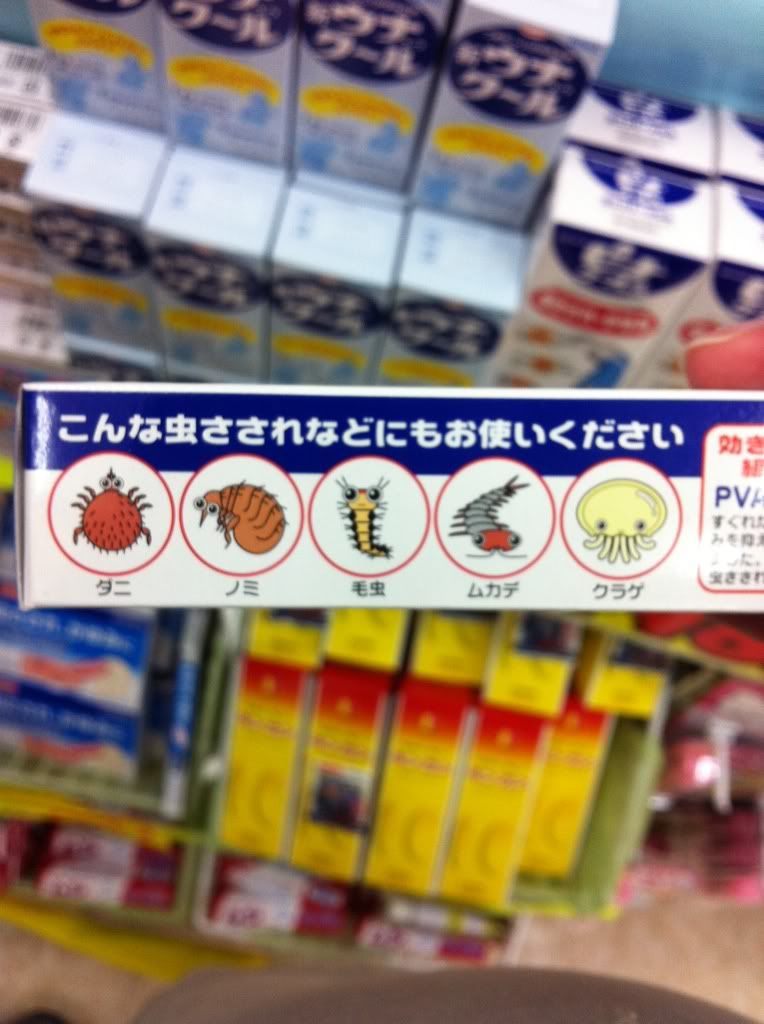 The medicine featured in the picture at left is one of the "extra strength" types. Pictures on the side of the box indicate what types of bites or stings the medicine might be used for.
Left to right: ダニ (mite), ノミ (flea), 毛虫 (けむし, caterpillar), ムカデ (centipede) and クラゲ (jellyfish).
Of course, you can also try some natural alternatives, such as witch hazel, baking soda paste, etc. (Try looking for online for more ideas - I've tried some natural options, but not all. Most recently I found witch hazel at Loft and that has worked pretty well. Great for other uses, too.)
For those of you in Japan, what type of medicine do you prefer to use on your mosquito bites?