Wow, it's November already!? How excited am I to host the Japan Blog Matsuri this month! First though, want to give a big shout-out and thank you to last month's host,
Todd's Wanderings
, who pulled together a fantastic assortment of unique posts for the theme,
Japan Highlights
. Go check 'em out if you haven't had a chance yet.
And now, for November's theme. But wait, some of you may be wondering, "what IS the Japan Blog Matsuri?" For more info on that, check out
this page
. Essentially, every month a different blogger hosts this blog carnival/festival, and other bloggers submit a post based on that month's theme. ANYONE can submit a post - even if you are not a Japan blogger! (And hey, it's great exposure for you as well).
Interested? Ok, so
November's theme
is:
"Fall is the season for eating"
, roughly translated from an actual Japanese saying:
食欲の秋
(shokuyoku no aki).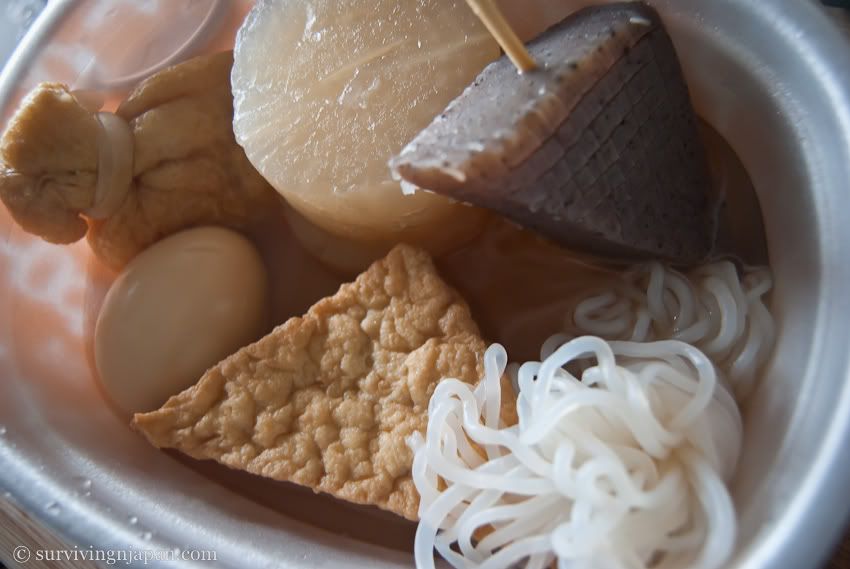 Oden - a cold weather dish
Though it feels more or less like winter right now in Japan, and summer extended into October, it IS still November and prime time for wonderful fall eats. Any kind of Japan-related food goes. Have a great recipe to share? Know of an amazing restaurant with some delicious seasonal cuisine? Any fall food-related customs in Japan you particularly enjoy? Or perhaps you are well-versed in the seasonal Kit-Kats, Pocky or some other Japanese treats. Whatever it is, let's share the deliciousness of Autumn in Japan.
Feel free to be creative - you don't need to focus on traditional Japanese food. Even if it's some kind of fusion cuisine, or perhaps non-Japanese food that people enjoy eating during the Fall in Japan. Or, maybe the Americans living in Japan want to share how they make Thanksgiving dinner happen. ;)
Rules and Guidelines
1. Please adhere to the full rules and guidelines you can
read here
.
2. Older posts are ok, but we really want to see something new!
3. Try to be succinct - nothing
too
long (and stay on topic).
4. Include at least one photo (because we all like photos! and why not, if the topic is
food
?). Video is ok, as long as it is embedded in the post, and you include the one photo.
5. Include the theme and mention the Japan Blog Matsuri in your post, then link the theme to this page. After I've posted all the submissions, feel free to link to that page instead.
6. Spread the word! Tweet it, share it on Facebook, etc.
How to Submit
1. Leave a link to your submission in the comments below.
2. Send me a link via my
contact form
.
3. DM me on Twitter,
@survivingnjapan
.
4. Submit via the
Blog Carnival Widget
.
Deadline for submissions: Nov 23rd
The November Matsuri will go live on November 25th.
I look forward to reading your submissions, and if you have any questions, feel free to read the
Japan Blog Matsuri FAQ
, or ask below in the comments.