Ask a Japanese person what epitomizes summer, and it's likely they might say 花火 (はなび、
hanabi
, fireworks). All summer long, but particularly from July to September, cities across Japan hold fireworks festivals. And coming from the U.S., I must say these fireworks are typically often much more spectacular than what you might see on the 4th. We could probably argue all day on where to find the best fireworks in the world, but even so, the fireworks in Japan are GOOD.
And no, this isn't a "how-to" post on fireworks or fireworks festivals, as you could easily find info on that elsewhere. My husband and I went to the Fukuroi Fireworks Festival (袋井遠州の花火) last night - generally known as one of the bigger ones in Japan. Fukuroi city, in Shizuoka, is quite near and dear to my heart, as it was my first home in Japan. And ironically enough, my old apartment was mere steps from where the festival is held. How convenient to just walk over to the park while everyone else trekked from around the prefecture by train and car, throwing their tarps over any free inch of grass. I happily sampled the festival cuisine - chocolate-covered bananas, candied apples, okonomiyaki, crepes, sweet potato fries - until I was stuffed. My friend and I sat and oohed and aah-ed with the crowd, as each burst of color, light and sound filled us with delight. We were in
Japan
.
Unfortunately, the experience could not be repeated last year, as the recession forced the city to cancel. So I'm sure you can imagine my excitement this year to head back to my old city, my old park, and that first festival.
My husband and I braved the crowds and chain-smokers-who-don't-observe-rules and headed to 愛野公園 (Aino Koen) yesterday afternoon. We laid out our tarp, did our rounds of dumping change on festival food, and settled down to munch and wait for the 7 pm start.
All right, I could sit and describe every firework, color, contest and random events with strangers about the rest of my evening, but enough chit chat. Rather then tell you about the rest of the festival, I'll let you see for yourself: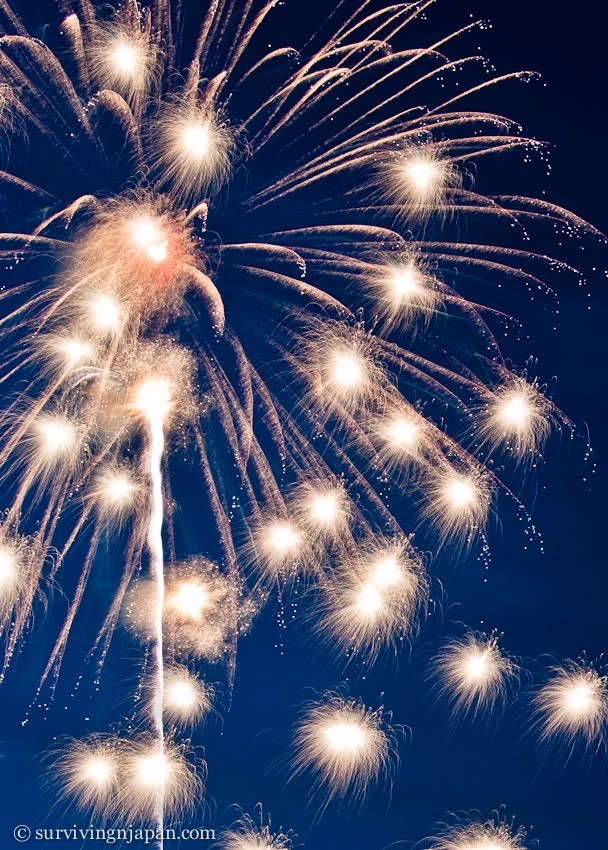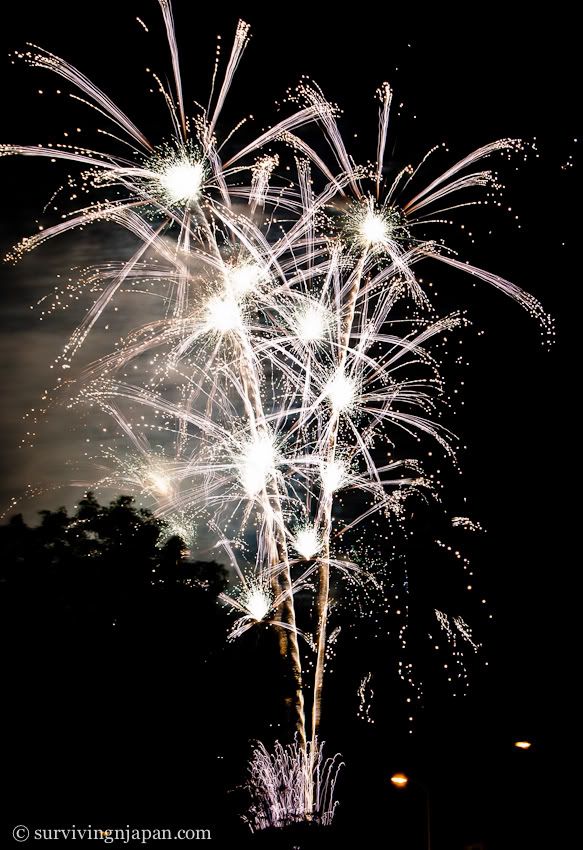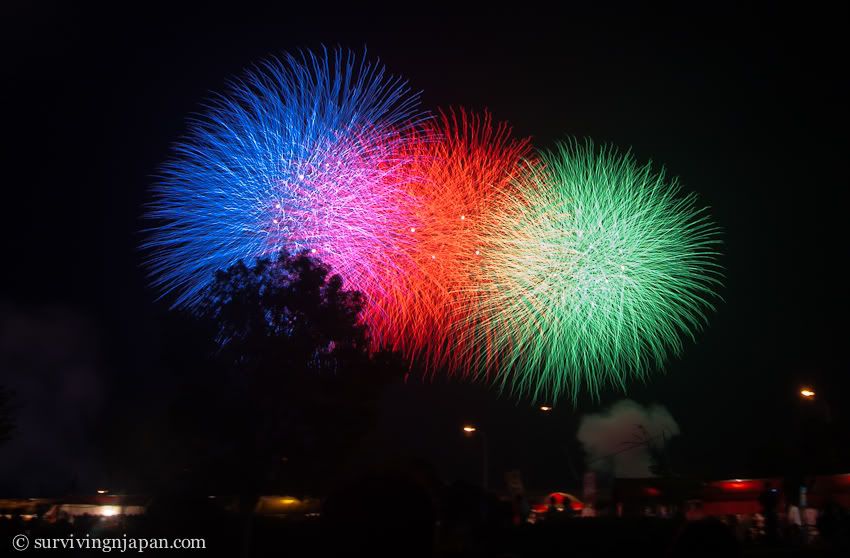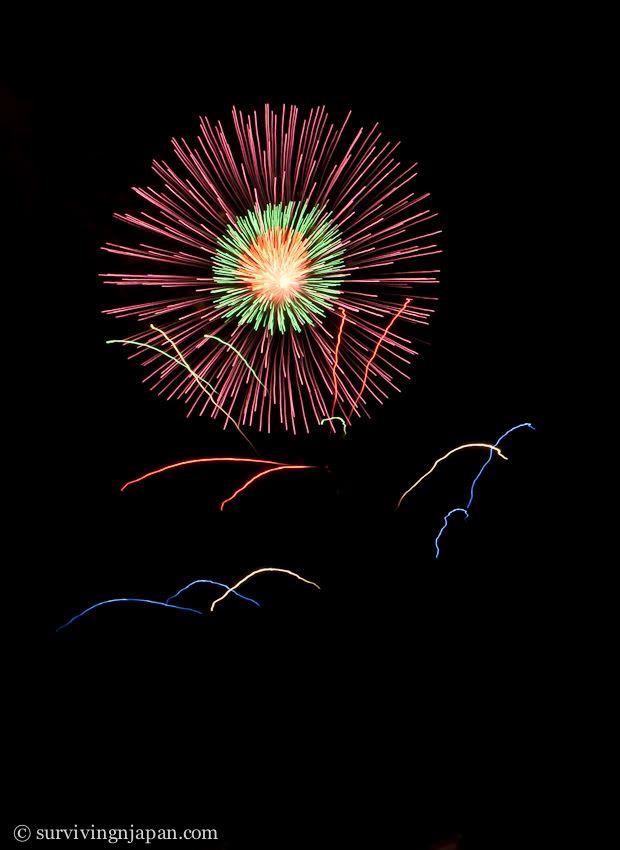 Want more? I have posted these and many others on the
Surviving in Japan photo blog
.
*Update*
- the following photos (links below) are now on the
photo blog
(with more to come).
Fukuroi Fireworks Festival Photos -
Part 1
,
Part 2
,
Part 3
,
Part 4
,
Part 5
,
Part 6
and
Part 7
.
And for anyone interested in going to the Fukuroi Fireworks Festival: it is held every year (unless the world goes into recession) in early August. The fireworks typically start at 7 pm and end at 9 pm. Seating is free and find-your-own, but ticket seating (up close and personal) is available, though limited. You can drive to Fukuroi by car, but parking is a pain. Trains are the easier transportation, although you have to walk from either Aino (愛野) or Fukuroi (袋井) Stations on the Tokaido line to Aino Park (about 20-26 minute walk, unless you are hobbling along in traditional
geta
.) Nearest Shinkansen (bullet train) stops are Kakegawa (掛川) and Hamamatsu (浜松). Need more info? Feel free to
contact me
. You can also check out the official
website
(in Japanese).
So tell me readers, what is the best fireworks festival you've experienced in Japan?